Chain set KTM EXC 380 98-99, chain RK GB 520 MXU 118, open, GOLD, 14/50
Chain set KTM EXC 380 98-99, chain RK GB 520 MXU 118, open, GOLD, 14/50
Product no.: 5005-0041-GBMXU
Chain Kit KTM EXC 380 E 98-99
RK GB520MXU open UW O-ring RACING chain in gold tone hollow rivet lock with 118 roles
suitable for MX and motocross racing up to 500cc, lightest race chain of RK
Tensile strength 4080kg
Sprocket made from high-precision, high-carbon steel C45
Sprocket made from SCM415 chromoly steel alloy CNC
Translation 14/50
The chain set contains a quality motorcycle chain of the Japanese OEMs RK Takasago ChainTo its outstanding features, the high manufacturing quality and durability are. A first-class motorcycle chain should always be combined with absolute quality sprockets.
Therefore, we perform exclusively Stahlkettenräderund pinion of brands Maxum-Tech, JT, Supersprox, Sunstar or Esjot.
At no extra charge, we rivet for all O - X - W and ring chains endless chains.
In our article number identifies
v is a quality level better than the chain manufacturer has a recommended
2V is better than two quality levels recommended by the chain manufacturer and
3V is better than three quality levels recommended by the chain manufacturer.
You want a different translation?
We're happy to help, and perform all sorts translation changes free of charge.
Please you contact to us: phone 02431-9758630 or info (at) cea.de.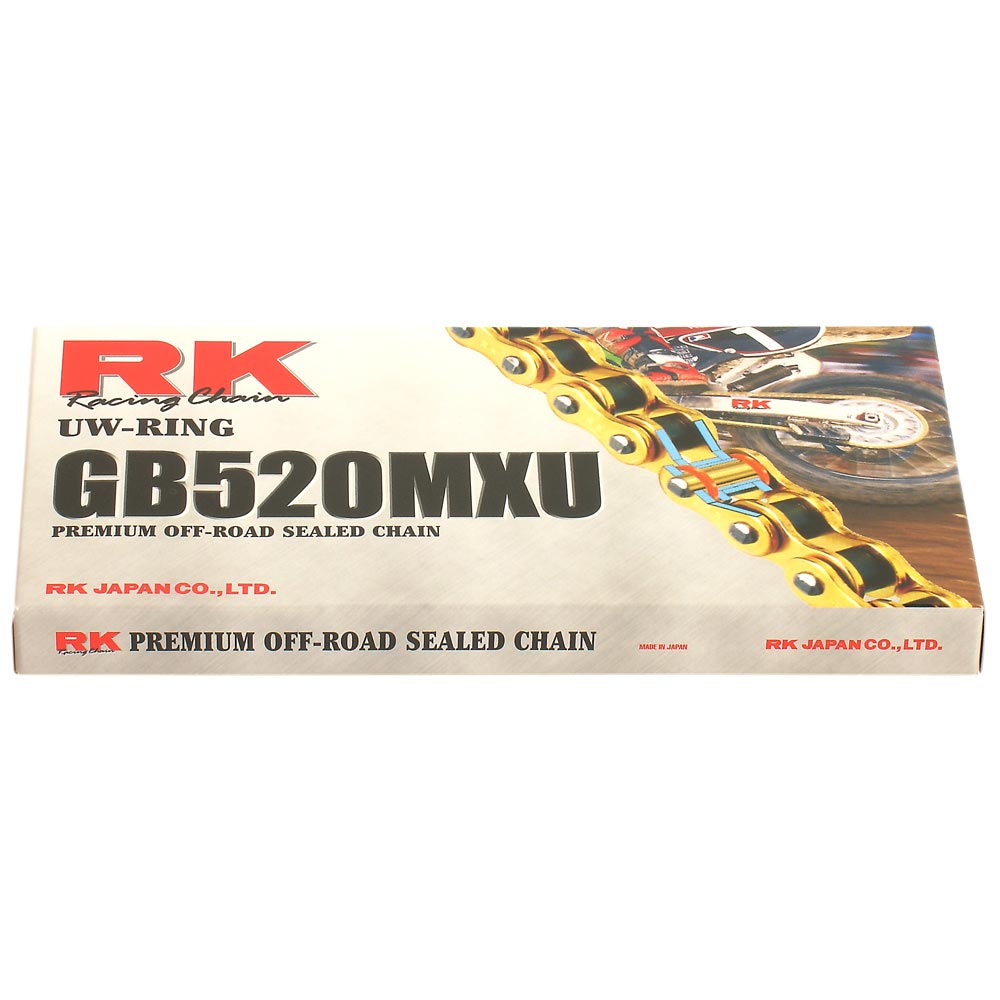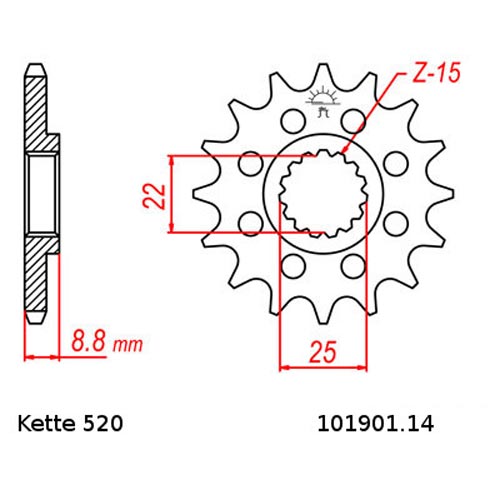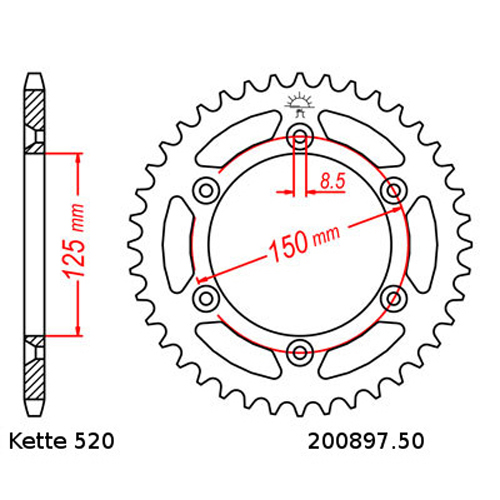 ---
What makes a RKChain so special? It is the tradition, the know-how and experience.
For over 50 years, RK Takasago Chains for Motorcycles ago.
Therefore, manufacturers such as HONDA, SUZUKI, YAMAHA, KAWASAKI, KTM, Ducati, Triumph and MV Agusta trust in the original equipment on chains RK.
While several other manufacturers are originally from the area of ??industrial chain belts or escalators in motorcycling and have tried to expand their market, has RK explained from the outset with the special requirements of a motorcycle drive chain, researched and developed here.
Refer especially to: the high and rapid load changes, as they occur only on a motorcycle, the major climatic differences worldwide as well as the correct selection of materials, to make optimum use of the PS of the motorcycle.
RK has the ability to perfectly align with the specific purpose.
So chains are developed, for example, in racing, which are specifically designed for a particular track, for a specific driver and close attention to the length of the race distance.
This know-how plays for the development of all the chains - from high performance chains to chains for everyday use - a not insignificant role.
Essential to the life of the chain but also the individual care and maintenance.
Details for the chain tension, please refer to your owner's manual.
Chain spray should all 500 - 2,500 Kilometers will be applied, which is ultimately the pending chain lube and the weather.
We recommend chain spray of Czech / HKS or S100 Products from Dr. Wack.
Never change only one component of the chain kit (chain, engine sprocket and chain) when the wear has already begun. The involuntary chain elongation and sprocket wear running mostly parallel with identical qualities.
The Kettenradtäler be rolled wide, the teeth are pointed with increasing duration of use.
We recommend sprockets, among others, JT, Maxum-tech and Sunstars.
Sets of chains or chains with seals in the sizes should 520, 525, 530, 532 and 630 proper maintenance and care at least 20,000 - 40,000 kilometers.
RK-original seal types
In order to satisfy the highly different driving characteristics of all types of motorcycles expectations also RK various O-ring type developed.
The life of a chain with different seal types is shown schematically in the diagram.
Quality and Price
Japanese motorcycles such as HONDA, YAMAHA, SUZUKI and KAWASAKI are approved in Germany, about 90% of cases have either a RKChain or a DID chain mounted. KTM, Ducati,
Triumph and MV Augusta are also customers RK.
So if you opt for a DID or RK chain, can basically do no wrong.
Prices can be compared only if one knows the appropriate quality levels of the chain manufacturer.
What a chain uses one for a 1200 motorcycle, if the manufacturer recommends this chain only up to maximum 900ccm?
There are providers who recommend an undersized chain for a chain set to thereby form a supposedly low price to offer.
All links in the chain sets offered by us at least meet the recommendations of the chain manufacturer.
A recommendation from the chain manufacturer DID and RK can be found here.
Shipping and Handling
| | |
| --- | --- |
| FREE SHIPPING WITHIN GERMANY | 0,00 EUR |
| Delivery within Germany | 5,95 EUR |
| Austria and the European Union | 15,99 EUR |
| Switzerland and Europe | 28,99 EUR |
| USA, Canada, Australia, Asia and Japan | 41,99 EUR |
Payment




Return
You can return the goods within 30 days of purchase.
---
---